2017 (67) Honda Jazz 1.3 i-VTEC EX 5dr CVT
12 people shortlisted this car
Pay a £99 refundable deposit today.
Contactless Click & Collect or Home Delivery now available.
Accepted payment methods
Google Pay
Apple Pay
Visa
Mastercard
Maestro
Get an instant valuation on your trade-in
Get a customised finance quote perfect for you
Reserve this car for a refundable deposit of £99
Chat with us
You can message us on WhatsApp or our web chat.
Vehicle summary
| | |
| --- | --- |
| Mileage | 13,671 miles |
| Year | 2017 |
| Fuel | Petrol |
| Gears | Automatic |
| Engine | 1318 cc |
| MPG (combined) | 56.5* |
| CO2 emissions | 114 g/km* |
| Doors | 5 |
| Body type | Hatchback |
| Colour | Blue |
Featured specification
Cruise control
LED daytime running lights
LED Headlights
Rear parking sensor
Speed limiter
Steering wheel audio controls
Independent review
Review courtesy of Car and Driving
Honda Jazz
By Jonathan Crouch
Introduction
An astonishing number of Honda Jazz owners buy another and this improved version of the third generation model we're looking at here aimed to keep them loyal at its launch in 2017. Smarter looks and the option of a perkier 1.5-litre i-VTEC engine aimed to widen this Honda's supermini segment customer demographic but, as before, this Jazz primarily sold on the back of its unrivalled practicality. For very good reasons, this is the used supermini that industry insiders frequently recommend.
History
Superminis, you might have decided, are mostly much the same. Here's one though, that's different, better in the way that it offers the largest and cleverest cabin in the class. That's always been the key selling point of Honda's Jazz - and continued to be with this facelifted third generation version which sold between 2017 and 2020. Globally, that's been a winning formula for Honda in the small car segment, this model line (marketed as the 'Fit' in some countries) having sold over 7 million units worldwide since the first generation version of this supermini was introduced back in 2001. That original car was followed by a MK2 design in 2008, then this third generation contender in 2015. Throughout, the buying demographic stayed pretty constant, core customers tending to be retired folk looking for a versatile, undemanding, quality compact means of transport. Unfortunately, there weren't enough of these people for the Jazz to sell in the kind of numbers Honda ideally wanted. Hence the need for this facelifted MK3 model, introduced here late in 2017. It featured sharper looks and, to try and snare younger buyers, the option at the top of the range of a more dynamic 'Sport' variant powered by a new 130PS 1.5-litre i-VTEC petrol engine. Otherwise though, the recipe here remained much as it was. In fact it'll be almost exactly as it was for the majority of Jazz customers who'll continue to shop further down the line-up and choose the 102PS 1.3-litre i-VTEC petrol unit this third generation design was originally launched with. Whatever your choice beneath the bonnet, there is, as before, the option of either manual or CVT auto transmission. Fortunately, what isn't optional is the brilliant 'Magic Seat' system that's made possible by the re-location of the fuel tank into the centre of the car. The space this frees up allows the Japanese brand to claim the Jazz as a model able to 'redefine what a supermini can be'. Jazz customers are also promised agile handling courtesy of an advanced Global Compact Platform, lots of equipment and very class-competitive levels of camera-driven safety kit. This facelifted MK3 model sold until Spring 2020, when it was replaced by an all-new hybrid-only MK4 design.
What You Get
This improved version of the MK3 model Jazz has a slightly more mature, sophisticated look than the earlier car thanks to styling changes that align it more closely with the current tenth generation Civic. In this facelifted MK3 form, it was just that little bit more grown-up, which will suit the target market. And inside? Well, we've always thought that Honda is very good at front-of-cabin design. Other manufacturers might deliver classier ambiences and higher-quality materials but in terms of driving comfort and ease of use, this Japanese brand seems to be more precisely tuned-in than most when it comes to creating an at-the-wheel experience that feels just right from the moment you set off. Through the three-spoke multi-function steering wheel, you're presented with a prominent speedometer deeply recessed into a silver-bezelled binnacle and flanked by two smaller circular gauges, the left hand one showing revs and that on the right being a TFT screen that shows key driving data. Anything this display can't tell you will be covered by a glance at the centre panel, angled towards the driver and incorporating the key addition to the interior of the third generation Jazz model - a 7-inch 'Honda CONNECT' colour infotainment touchscreen. And in the rear? Well, the Jazz has always been the most spacious car in its class and, thanks to the 30mm wheelbase increase made to this third generation version, it still is. What really marks this Jazz apart from its contemporaries though, is the packaging brilliance that allows it to stand out, made possible by the way that the fuel tank has been positioned under the front seats to liberate the floor of the cabin and allow the seats to be folded into all sorts of permutations. Let's take just one of them, the so-called 'Refresh mode'. People in the back exhausted on a longer trip would use this when there's no one in the front passenger seat, this setting allowing that front seatback to be reclined into a flat position meeting the rear seat base. Perhaps though, you're in need of greater practicality, specifically for the carriage of the kind of tall items you normally wouldn't expect to be able to accommodate in a car like this. Maybe a small potted tree you've bought from the garden centre; or perhaps a bulky item of electrical equipment. That's when you'd use the 'Magic Seat' 'Tall mode' where the front of the rear seat base rises up and can be locked in a vertical position to leave a cargo height of 1,280mm from floor to ceiling, allowing the object in question to be placed behind the front seats. The other two 'Magic Seat' settings relate to more conventional cargo configurations. Raise the rear hatch and you'll note the wide cargo opening and low loading lip that pave the way towards a class leadingly-large 354-litre boot that's 17-litres bigger than that of the previous generation model. But let's say you need more room and want to push forward the 60:40 split-folding rear seats to, for example, store something like a bicycle. That's when you move into the 'Magic Seat' system's 'Utility Mode' and the first thing you notice with that is the ease of the folding process. Here, you've only to release a simple lever mechanism, push forward from the rear and watch as backrest and seat base retract together into the rear footwell in one quick, fluid motion. If you're not using the front passenger seat, there's the option to recline it as part of the final 'Magic Seat' 'Long mode'. With that done, items as long as 2,480mm can be accommodated.
What to Look For
Not a lot goes wrong with any third generation Jazz. Buyers are, on the whole, a contented lot if customer satisfaction surveys are anything to go by. However, we did come across a few issues. One owner complained of problems with intermittent front headlight electrics. Another said his car got through front brake pads excessively quickly. Otherwise, just check the interior for signs of damage from unruly kids. And inspect the alloy wheels for kerbing damage. Otherwise, it's only a case of insisting on a fully stamped-up service book.
Replacement Parts
(based on a 2016 Jazz - ex VAT): A front brake pad set is about £25-£44; rear pads are £15-£30. A front brake disc is about £33. Rear discs are in the £25-£60 bracket. A pollen filter is around £14-£21. A wiper blade is around £8-£13, while an oil filter is about £6-£8. An air filter is around £12-£18. A headlamp is around £156.
On the Road
Jazz buyers get a couple of i-VTEC petrol engine options, a 130PS 1.5-litre unit joining the range in 2017 alongside the 102PS 1.3-litre powerplant that most buyers choose. Both are old-tech four cylinder normally aspirated engines but come mated to a sweet-shifting six-speed gearbox. You'll be using that stick shift quite a lot because the lack of a turbo here means that frequent cog-swapping is needed to maintain anything approaching rapid forward motion. Optional is a CVT automatic transmission, which enables the Jazz to return very reasonable efficiency figures - up to 60.1mpg on the combined cycle and 106g/km of CO2 in a base 1.3-litre model (both NEDC figures). We'd suggest the auto variants to be appropriate for urban-based buyers only though. Engine refinement and ride quality over poor surfaces certainly could be better but around the corners, the Jazz feels sharper than you might expect thanks to reasonably feelsome steering and an 'AHA' 'Active Handling Assist' system that helps get traction down through the bends. There's some clever technology too, like the 'Intelligent Speed Limier'. Working in conjunction with a 'Traffic Sign Recognition' system, this set-up knows what the prevailing speed limit is and limits your pace accordingly, so here's no chance of absent mindedly creeping past 30mph and getting zapped by a roadside camera.
Overall
Honda does things differently - and we can't help liking that. Whether the model in question is a Civic, a Clarity fuel cell vehicle or a Type R hot hatch, you'll find that it's been uniquely engineered and packaged - as is the case with this Jazz. This always used to be the supermini that motoring experts would recommend as the small car they'd buy with their own money. For us, it still is. We're not blind to its failings. Other class competitors are more refined and offer higher quality cabins with more sophisticated infotainment. But none of them can get near the interior flexibility made possible by this Honda's neat 'Magic Seat' flexibility and tardis-like cabin. We'd go as far as to say that in many ways, this supermini is a more practical choice than many Focus-segment family hatchbacks from the next class up. As for the changes made to this third generation model, well to be frank, they don't greatly alter its sales proposition. The uptake on this top 1.5-litre 'Sport' variant was low and beneath it in the range, the package remained pretty much as it had been since 2015. Just as well then, that the packaging of this design remained so difficult to beat. By 2017, rivals had become classier, more dynamic and more up-market. Whether they're also better where it really matters though, is quite another question. For its loyal, dedicated band of buyers, this Jazz always will be. Try one and you'll understand.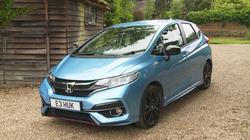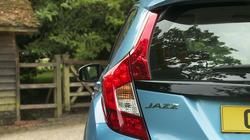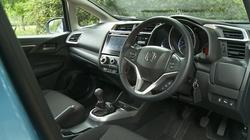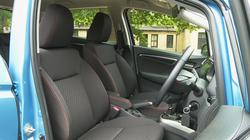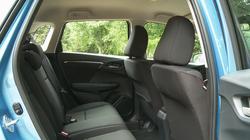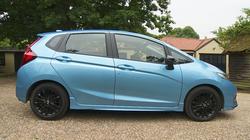 Performance

70%

Handling

70%

Comfort

70%

Space

80%

Styling

80%

Build

80%

Value

70%

Equipment

70%

Economy

70%

Depreciation

70%

Insurance

70%
This vehicle has previously been registered to a business or a vehicle rental company, or been used by a business, so it may have been driven by more than one driver.
* Depending on the age of the vehicle, MPG and CO2 may be quoted using either NEDC or WLTP testing standards. Find out more
Figures are provided for comparison purposes. Fuel consumption under real world driving conditions and the CO2 produced will depend upon a number of factors, including any accessories fitted after registration, variations in driving styles, weather conditions and vehicle load.
Hire purchase
| | |
| --- | --- |
| Monthly payment | £305.50 |
| Deposit | £249 |
| Term (months) | 60 |
| Fixed interest rate | 5.7% |
| Cash price | £14,498 |
| Credit amount | £14,249 |
| Completion fee | £1 |
| Total amount payable | £18,580 |
| Representative APR | 10.9% |
Arnold Clark Automobiles Limited is authorised and regulated by the Financial Conduct Authority (
308092
) for general insurance and consumer credit purposes. We act as a credit broker sourcing credit to assist with your purchase from a carefully selected panel of lenders. Lenders will pay us a fee for these introductions (
click here
for details including our panel of lenders and disclosure statement). Offers subject to status, terms and conditions.
Honda Jazz - 1.3 i-VTEC EX 5dr CVT
YH67WKJ
GBP
14498
13671 miles, Broxburn SEAT / Fiat / Abarth
70 West Main Street, Uphall, Broxburn, Edinburgh, EH52 5DW
Phone Number
Call now on 01506 379141**
** Calls may be recorded for quality or training purposes.