Brand New 73 Renault Kangoo ML19 ENERGY TCe 100 Start Van
From
£18,495
+ VAT & RFL
Save £755 on current list price
Vehicle summary
| | |
| --- | --- |
| Mileage | Zero miles |
| Fuel | Petrol |
| Gears | Manual |
| Engine | 1333 cc |
| CO2 emissions | 155 g/km* |
| Road tax | £320** |
| Body type | Van |
| Colour | Choice of colours |
Featured specification
7.9% APR available at Renault branches only
Available To Pre Order
Manual air conditioning
Bluetooth
3.5" monochrome TFT driver information display
Side loading door-left unglazed
Side loading door-right unglazed
Full steel bulkhead
E-call
DAB Digital Radio
180 degree unglazed asymmetric rear doors
Automatic headlights and rain sensitive front wipers
Electrically adjustable + heated door mirrors
Height adjustable drivers seat
3 button folding key with selective opening and superlocking feature
ESC + Hill start assist
Independent review
Review courtesy of Car and Driving
Renault Kangoo Van
The third generation version of Renault's Kangoo van might just be the market's most complete compact LCV. Jonathan Crouch drives it.
Ten Second Review
This completely redesigned third generation Renault Kangoo van aims to set fresh standards in compact van design - and in some ways it does. There are some genuinely clever features on offer here - though UK customers can't have all of them - mixed with more than a dash of Gallic flair.
Background
'Renaultvation'. What on earth does that mean? Apparently, it's got something to do with a programme of innovation that the French maker has in mind for its most practically-orientated models. Starting with this one, the third generation Renault Kangoo van. We haven't actually had a completely fresh generation Kangoo model since 2007, so this one is a big deal. Full of all the most clever ideas that the Renault LCV design department's been working on over the last decade. Sadly we won't get all of these in right-hand drive models, but the improvement in the product we can have is evident amongst almost everywhere you look with this third generation version. Here, it will only be available - in the usual standard and Maxi wheelbase length sizes - as a van; continental markets continue to also get this model as a passenger-carrying MPV. As before, there's a full-Electric E-TECH drivetrain if you want it. The competition though is tough, not least from this Renault's most recently redesigned rival, the fifth generation Volkswagen Caddy. So, does 'Kangoo' mean 'can do'? Let's find out.
Driving Experience
We've been talking for years about vans, particularly small ones, becoming more 'car-like', but this one really is. Your initial impressions in this combustion model are likely to be dominated by three most un-van-like things; exemplary refinement; a low car-like driving position; and a particularly smooth-shifting 6-speed manual gearbox that might convince even urban folk tempted by the alternative 7-speed EDC automatic. The high-set gear lever falls easily to hand and is complemented by light but accurate steering. If you're after a combustion Kangoo, you don't have to have the dCi 95 model we tried, but it's almost certain that you will. The only alternatives, after all, are either the same engine in pricier 115hp form, with a mandatory auto gearbox; or the token petrol option that most rivals don't bother to offer because hardly anyone wants it, in this case 1.0-litre three cylinder 100hp TCe turbo unit from the Clio. Or you can take the plunge into the EV era with the much pricier E-Tech full-battery version, which in this third generation Kango offers technology that's a huge step forward from the previous generation Z.E. model. That old LCV's 44kW motor has been replaced by a 90kW unit powered by a considerably larger battery, increased in size from 33kWh to 45kWh. As a result, range is up to 186 miles (up from 143 miles before) and power output has now almost doubled to a class-creditable 120hp, with 245Nm of immediately-available torque. The E-Tech version has the same 1.5-tonne braked towing capacity as the diesel variant too. And three provided levels of selectable regenerative braking. As with the diesel, there's also an Eco mode to stifle the throttle and maximise range, but in the E-Tech version, it muffles power output more considerably, reducing it by half to just 60hp, so you won't really want to engage it outside the city limits unless you really are running low on charge.
Design and Build
The Kangoo model line urgently needed a thorough visual redesign, which is what's been delivered here. In third generation form, it certainly looks a lot more modern, with a shorter bonnet and squarer lines. The large Renault badge on the nose (which conceals the charging socket on the E-TECH electric model) is flanked by headlamps incorporating the brand's signature C-shaped daytime running lights. And there are also smarter light clusters at the rear, where the left hand door has been made wider to improve access in tight spaces. There's an even bigger step forward inside, where just about everything that matters has been carried over from the current Clio supermini - steering wheel, dashboard, climate controls and the prominent infotainment touchscreen that appears further up the range. The cabin's more spacious too - now wide enough for the inclusion of an optional double passenger seat. If you need to carry more than two passengers, then it's worth checking out the Crew Van variant. A clever feature that Renault unfortunately hasn't been able to engineer into right hand drive Kangoos is the 'Open Sesame' side door. With this, the lack of a B-pillar, combined with the swivelling bulkhead and a flat seat makes for an opening so big (1,446mm) that you could load in items of up to 3.0-letres in length. That's disappointing, as is the lack of another clever feature, the 'Easy Life' glovebox drawer. There is however, a central folding backrest that turns into a handy work surface, plus almost 60 litres of storage in the cab.
Market and Model
At the time of our test in early 2023, this Kangoo was priced from £24,505 on the road in this base Blue dCi 95 diesel form, which is what most customers will want. That's a VAT-inclusive price so, to use that entry-level figure as an example, the reclaimable VAT figure for business users would be £3,910 in the case of the entry-level dCi model. As we compiled this Review, Renault was on the road-pricing diesel Kangoos in the £25,000 to £30,000 bracket, but of course you'll need to check the brand's price list for up-to-date figures at the time you're viewing this film. You can save just over £1,000 on that base diesel's on the road price if yours is one of the few companies interested in this model's available TCe 100 petrol powerplant. That petrol version's only available in 'ML' short wheelbase form. Opt for the diesel though and, for an £1,800 on-the-road premium over the 'ML' body shape, you can have the option of the 'LL' long wheelbase version, which of course will offer you more loading and carriage options in day-to-day use. With either body shape, there's a choice of two trim levels, base 'Start' or (for £1,200 more) plusher 'Advance'. Diesel drivers who choose 'Advance' will be offered the opportunity of paying a £2,280 premium to get the dCi engine in uprated 115hp form mated to EDC automatic transmission. If you want the fossil-fuelled Crew Van version, with its fold-out second seating row, you'll need to stick with the 95hp diesel engine, the 'ML' body shape and base 'Start' trim. Got all that? Good. The full-electric E-Tech Kangoo is of course vastly more expensive, even when you subtract the government's still-available £2,500 Plug-in Van Grant from the mildly off-putting total asking price. At the time of this test, with that Grant taken into account, on the road Kangoo E-Tech pricing started from around £35,000. Again, there are 'Start' and 'Advance' trim levels and 'ML' and lengthier 'LL' body shapes, the latter requiring the same £1.800 premium as with the diesel. And, also as with the diesel, you can have a Crew Van EV variant if you stick with the 'ML' body style and base 'Start' trim.
Practicalities and Costs
So, which Kangoo is going to suit your business? It isn't quite as straighforward as simply choosing the right body size - select either the 3.3m3 standard 'ML' Kangoo van (up from 3.0m3 with the previous generation model) or the 4.2m3 Kangoo van 'LL21' (up from 4.0m3 in the previous 'Maxi' variant). As for the payload, well that's limited to 615kgs in the E-Tech electric version. It's quoted at between 802kgs and 987kgs for the more conventional petrol and diesel versions. All models can squeeze in a standard Euro pallet thanks to the generous width between the wheel arches that all Kangoos share. You wouldn't have to lift said pallet too far off the ground to get the thing in either, thanks to a user-friendly loading height (which can be as low as 531mm). As usual in this class, there's a sliding side door, with the option of a second on the opposite side. As for running costs, well, Renault says it's worked hard in this area; expect 53.3mpg on the combined cycle and 139g/km of CO2 from the volume Blue dCi 95 diesel variant, while the TCe 100 petrol version manages 41.5mpg and 155g/km. The service intervals across the range though, aren't especially long. Battery replenishment (20-80%) in the all-Electric E-TECH version takes 40 minutes at a public 80kW fast charging point - or one hour 21 minutes at a 22kW public charging point using the provided mode 3 cable. A 7.4kW domestic charging point wallbox requires just over four hours, while you'll need over 13 hours from a standard 2.3kW domestic socket. Across the range, a 3 year/100,000 mile warranty is provided, with no mileage limit for the first two years and roadside assistance for the entire duration. You also get a 3 year paintwork guarantee and a 12 year anti-corrosion warranty.
Summary
There's so much about this third generation Kangoo that represents a clear step forward. Efficiency, cabin design, styling, safety, connectivity. We think innovations like the new folding seat arrangement and the roof-mounted interior rack are brilliant. But, like other commentators, we're very disappointed that arguably this Renault's cleverest design feature, the B-pillar-less 'Open Sesame' side door, can't be offered to UK customers. Still, what remains on the Kangoo spec sheet certainly ought to catch the attention of UK businesses browsing in the segment for compact vans. If you're shopping in this class, make no mistake, this Kangoo has to be high on your list of contenders to try if you're to make the right buying or leasing decision. It turns out that 'Renaultvation' really does mean something after all.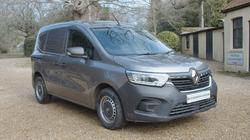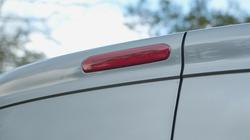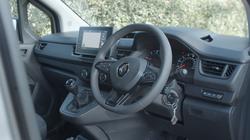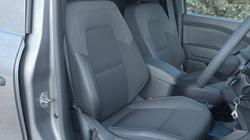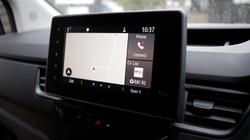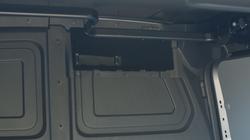 Performance

70%

Handling

70%

Comfort

70%

Space

70%

Styling

70%

Build

60%

Value

70%

Equipment

70%

Economy

80%

Depreciation

60%

Insurance

70%
* Depending on the age of the vehicle, MPG and CO2 may be quoted using either NEDC or WLTP testing standards. Find out more
Figures are provided for comparison purposes. Fuel consumption under real world driving conditions and the CO2 produced will depend upon a number of factors, including any accessories fitted after registration, variations in driving styles, weather conditions and vehicle load.
Hire purchase
| | |
| --- | --- |
| Monthly payment | £362 |
| Deposit | £4503 |
| Term (months) | 60 |
| Fixed interest rate | 4.11% |
| Credit amount | £18,012 |
| Completion fee | £1 |
| Total amount payable | £26,224 |
Arnold Clark Automobiles Limited is authorised and regulated by the Financial Conduct Authority (
308092
) for general insurance and consumer credit purposes. We act as a credit broker sourcing credit to assist with your purchase from a carefully selected panel of lenders. Lenders will pay us a fee for these introductions (
click here
for details including our panel of lenders and disclosure statement). Offers subject to status, terms and conditions.
Find a dealer
This vehicle is available at Business Sales branches.