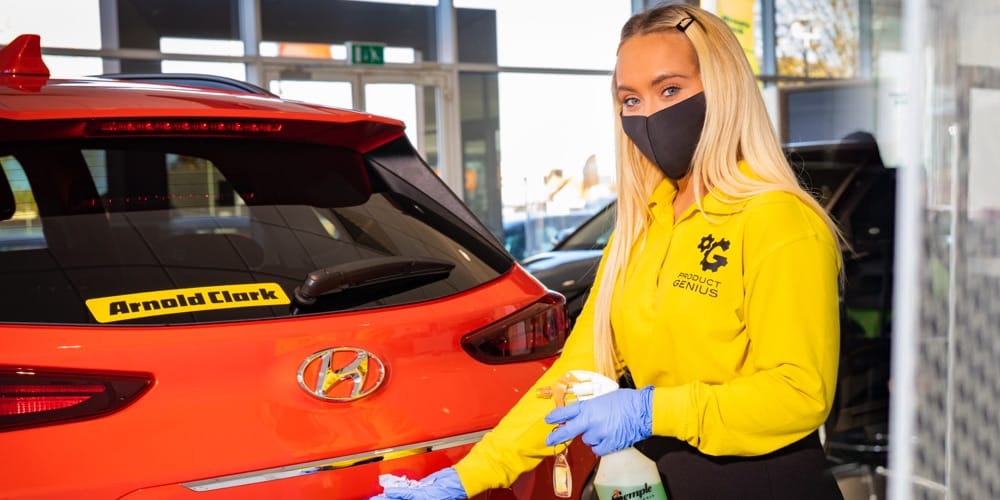 Arnold Clark COVID-19 guidance for candidates
We know this has been a difficult time, especially if your career has been affected by the pandemic. At Arnold Clark, the safety and wellbeing of our employees is our top priority, so if you're looking for a new role, we'll do everything we can to make the process as safe and streamlined as possible.
Search all jobs
FAQ's about safety and support
Are you still hiring?

As our business evolves and adapts to new challenges, we need to review and respond to the situation accordingly. Please keep an eye out on our careers page for new positions. You could also sign up for job alerts to be notified when relevant roles become available.
What measures are in place if another national lockdown takes place?

We're in a stronger position than we were in March 2020. We've learned and adapted our ways of working to offer a range of services online and from a safe distance, including car buying through Click & Collect; online service and MOT check-in; and new processes for test drives. We've also adapted our branches to give our customers a safer car-buying experience.
Are your workspaces safe?

We've put the safety of our employees and customers at the heart of Arnold Clark life with sanitiser stations throughout our sites; one-way systems in our offices, showrooms and workshops; and having the appropriate PPE available to any member of staff who needs it. We've also embraced digital collaboration, meaning that more staff are able to work from home.
Hiring process
We know that searching for a job is particularly difficult at the moment so we want to make the process as easy as possible for you and let you know exactly what to expect.
Browse our vacancies

We have a range of vacancies available at different times. Have a look on our vacancies page or sign up to our job alerts to be notified when new positions are posted.

Apply online

Our online application process makes applying for a position at Arnold Clark quick and easy.

Follow up

We appreciate that it can be nerve-racking waiting for a response. After the closing date, we'll aim to get back to you within two weeks.

Interview process

Depending on the role you've applied for, we may invite you to one or two interviews. At the moment, all our interviews are conducted over the phone or on Skype. Face to face interviews may take place if the candidate has been shortlisted by the recruitment advisor.

Offers

if you are successful you will receive your offer letter/contract within 3 days from confirmation of your start date.

Digital onboarding

Our onboarding process is carried out online so you can access your induction information at any time.
We're still here to help
This year has been difficult for everyone in the automotive industry, but we're proud to say that we're still here and we're still able to provide our customers with the highest level of service. We've embraced change – and this has allowed us to work more efficiently and collaboratively across the business. In 2021, we want to continue to grow, evolve and stay agile to keep up with even more changes in our industry.
Search all jobs