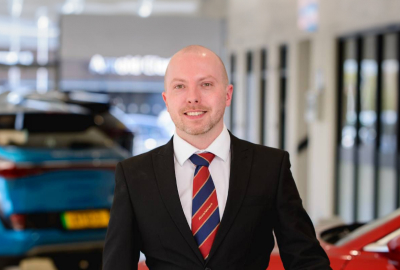 Stewart Gunn
From Product Genius to BYD General Manager, Stewart Gunn has achieved great things in just seven years at Arnold Clark.
Starting as a Product Genius at Paisley Fiat in 2016, Stewart then moved to our Glasgow Innovation Centre as an Innovation Centre Genius in October 2020. From there, he was offered his first managerial position in May 2022 to become the Innovation Centre Manager in Stafford, and in March 2023, he was promoted to General Manager at our new Linwood BYD branch.
With BYD continuing to expand as a global brand, Stewart is looking forward to working with the manufacturer and being part of their growth in Scotland and the rest of the UK.
Stewart said: 'What excites me with this particular branch is that we are solely run by product geniuses, so we have an extra strong focus on product knowledge and customer service. During my time as a product genius, I learned a lot, and passing that onto the team here at Linwood has been a rewarding experience.'
Close